Colored rubber granules make up some of the prettiest, most vibrant safety surfaces that we know of. As a trusted one-stop-supplier of premium rubber granules, our high-quality rubber has been used in a number of creative surfacing projects. In this article, we hope to highlight some of those innovate projects to help spark any future plans for using colored rubber granules in a surfacing solution.
Playground Safety Surfacing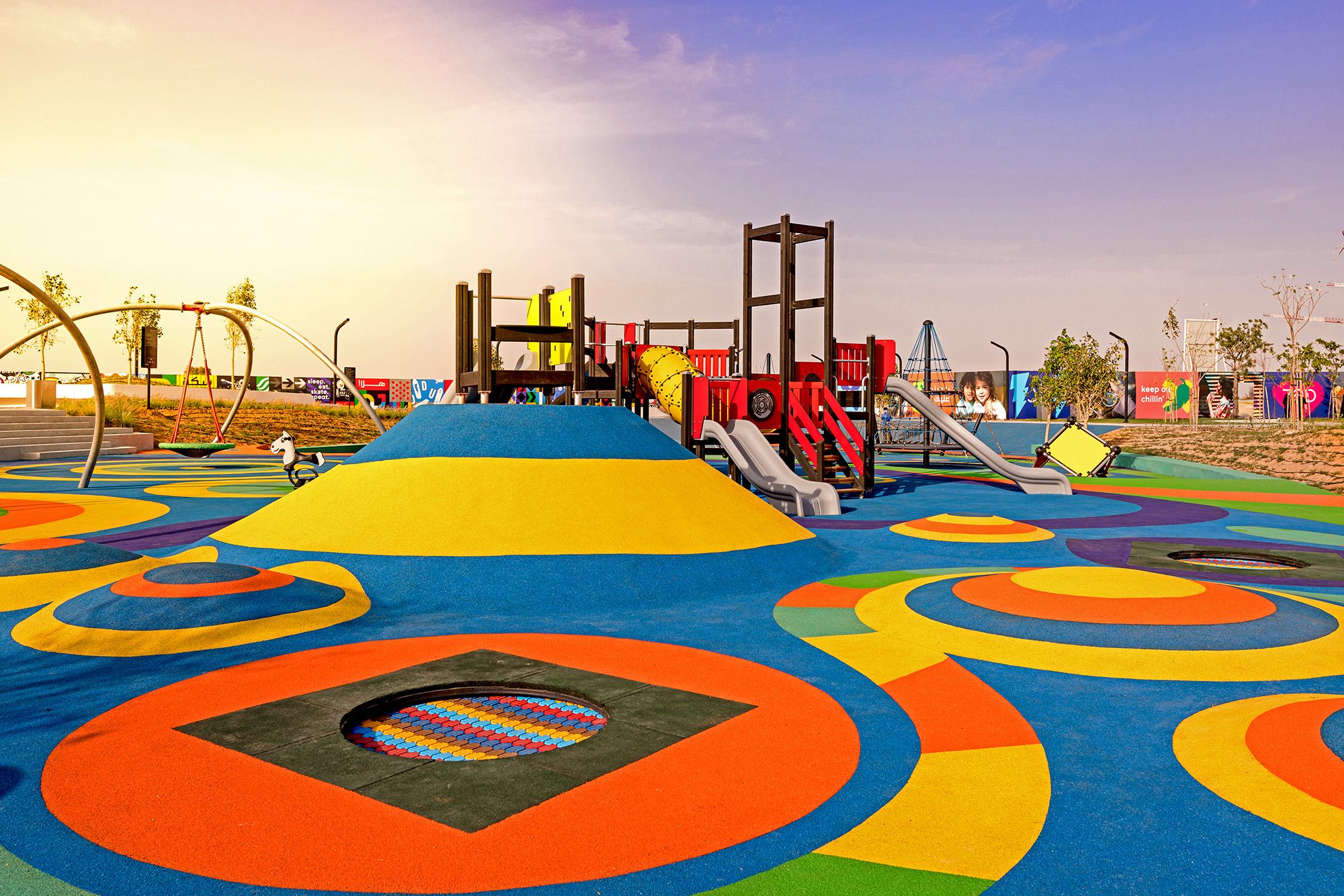 Colored rubber granules are often used in application methods such as poured-in-place rubber to create one-of-a-kind playground safety surfacing. Available in 22 colors, the Rosehill TPV® colored rubber granules are tested to meet internationally recognized standards while producing reliable, UV-resistant safety surfacing for unique playgrounds.
In the image above, the Aljada mega development in the United Arab Emirates uses Rosehill TPV® colored rubber granules to create one of the most vibrant playground surfacing projects we have ever seen. At about 600,000 square feet, the play area known as "Playscape at Madar" hosts a range of different types of playground equipment to appeal to kids of all ages.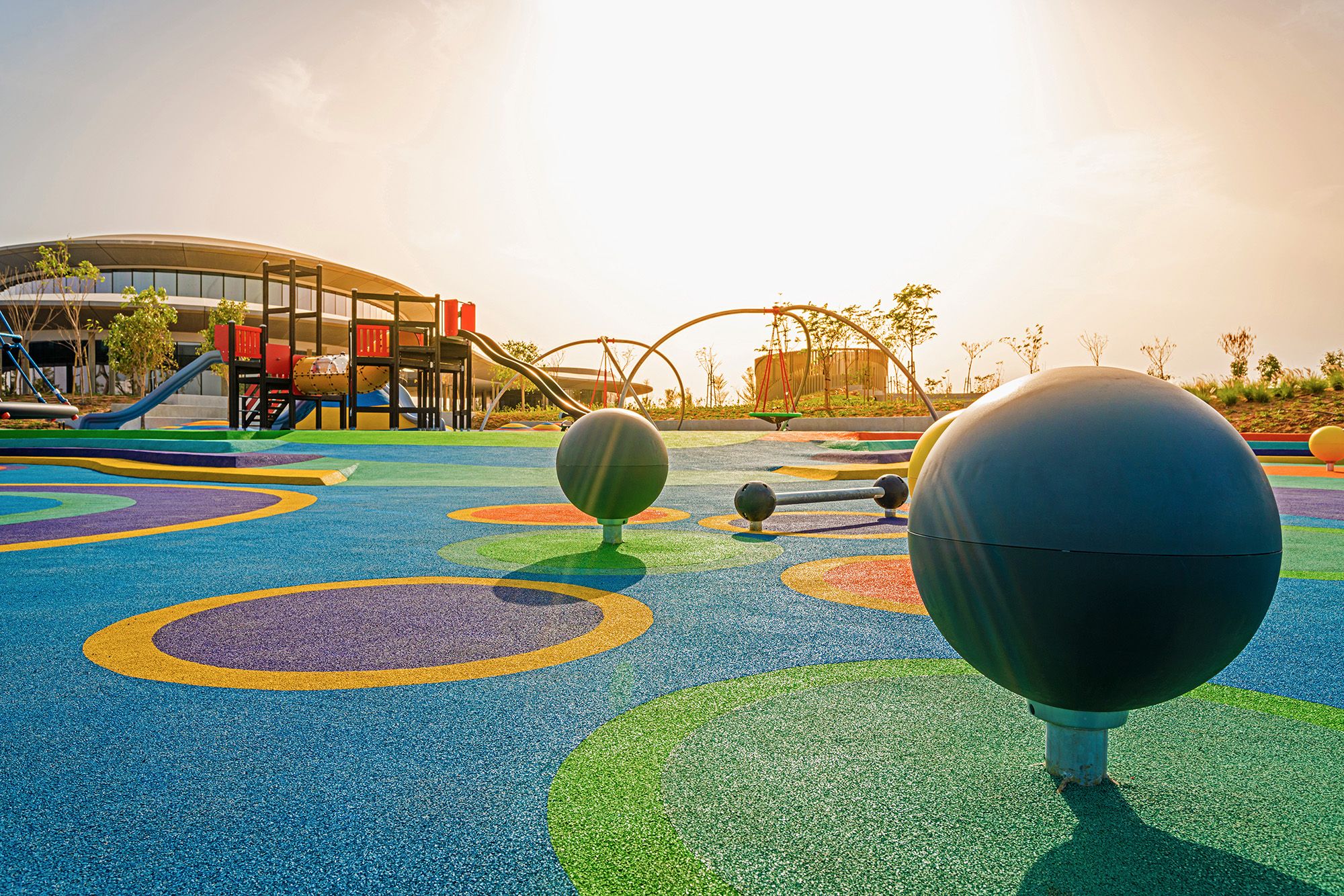 From swings to trampolines, this gorgeous playground has it all. It is also the perfect inspiration for any developer or designer wanting to creatively use colored rubber granules in playground surfacing.
Outdoor Gyms
Outdoor fitness gyms have become increasingly more popular in recent years, allowing people to spend more time outside while also avoiding gym fees. These outdoor gyms are being built in local parks, neighborhoods, senior living communities, and office spaces using equipment that targets strength, balance, and agility.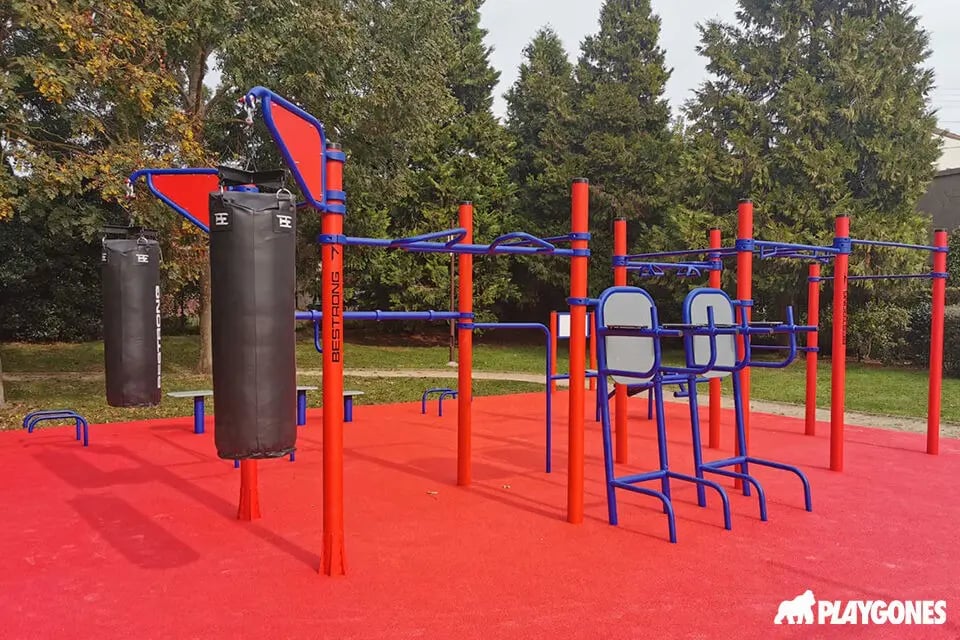 Underneath the outdoor fitness equipment, safety surfacing is often required. For this outdoor gym in Northern Paris, the developers chose a bold red surface made from Rosehill TPV® colored rubber granules. Using a powerful color like red for the safety surfacing and fitness equipment can have somewhat of a psychological effect on people. According to the Best Colors for Gyms and Fitness Rooms, the color red in design is known for stimulating appetite, strength, and even stamina.
Looking to develop an outdoor gym that ventures outside the norm? Incorporate a ninja course with some of your fitness equipment! Pictured below, residents in Perth, Australia have the unique opportunity to fit in a daily workout while also testing their athleticism and strength on a ninja course. Using a beautiful blend of our red and yellow colored rubber granules, the team at Perth Play Playground & Rubber have created the perfect protective surface for this inspiring outdoor gym.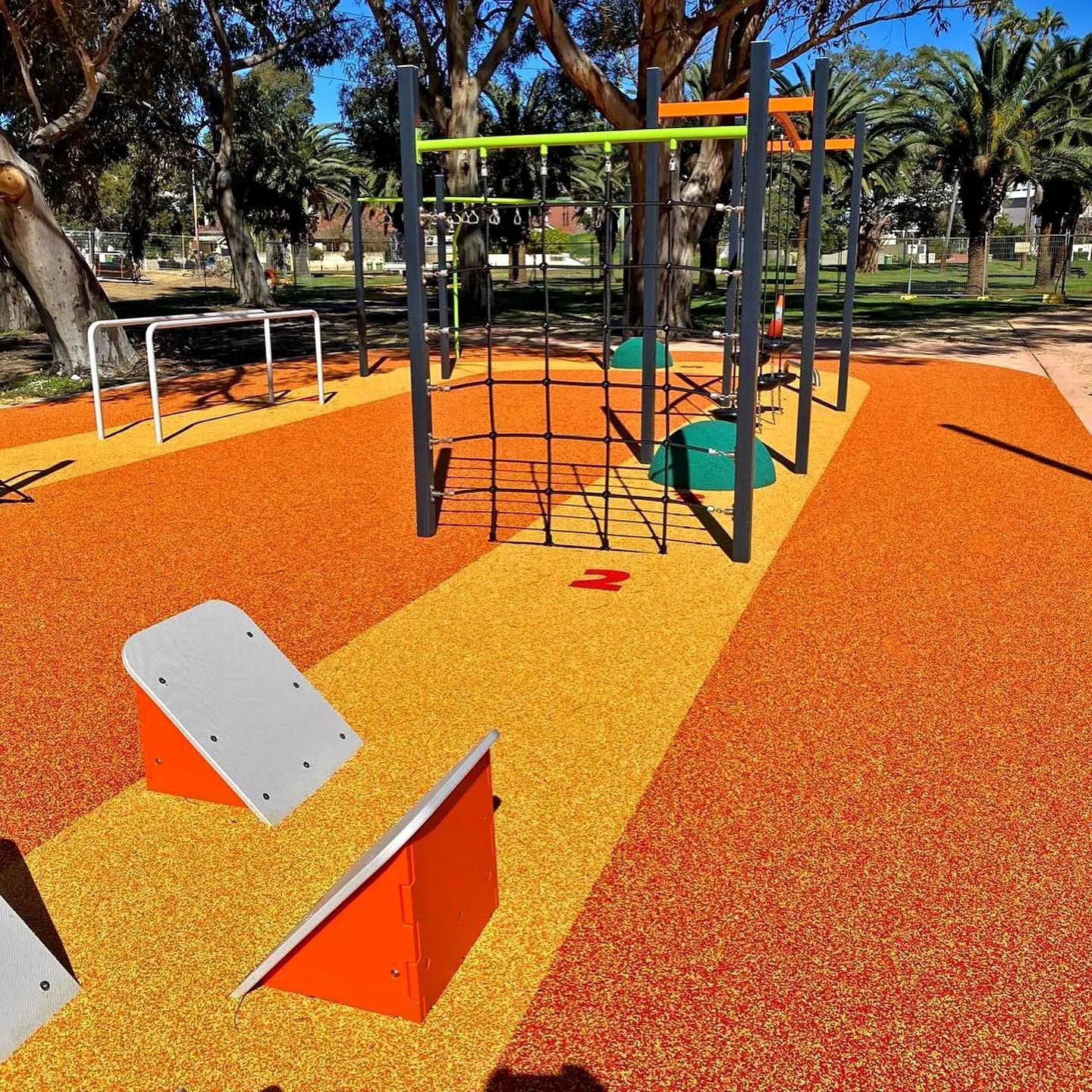 Pool Lining & Deck Surfacing
Using rubber surfaces to surround public or residential pools is a very unique way to protect one of the slipperiest places. Instead of using harsh surfaces like concrete or tile, rubber surfacing is just as durable, while also providing a soft and slip-resistant surface that is truly unmatched.
In North Carolina, the team at Carolina Surfacing used Rosehill TPV® colored rubber granules to surround this 7,500 sq ft pool.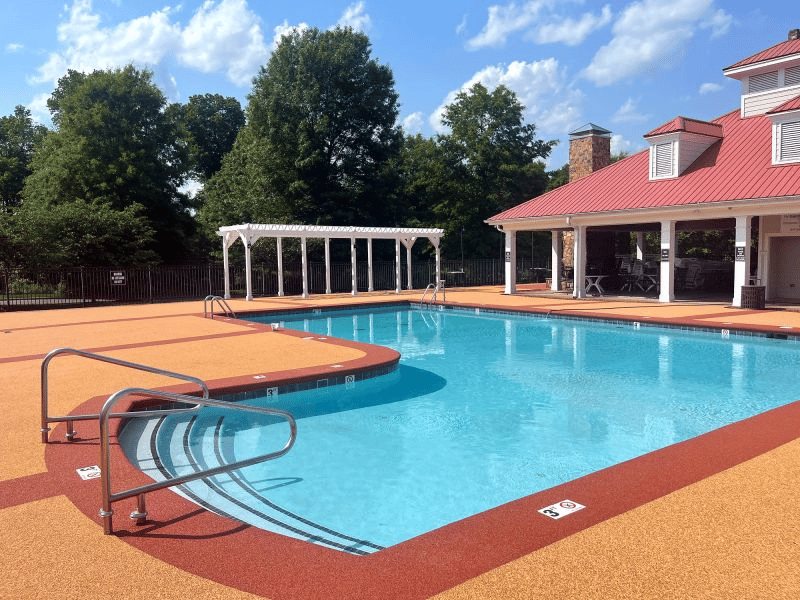 Installing rubber surfacing around pools creates a durable, slip-resistant outdoor space for years to come.
Using rubber surfacing as a pool lining for your backyard oasis is another creative way to use colored rubber granules. In California, this pool was finished with a combination of Rosehill TPV® colored rubber granules and a proprietary liquid polymer.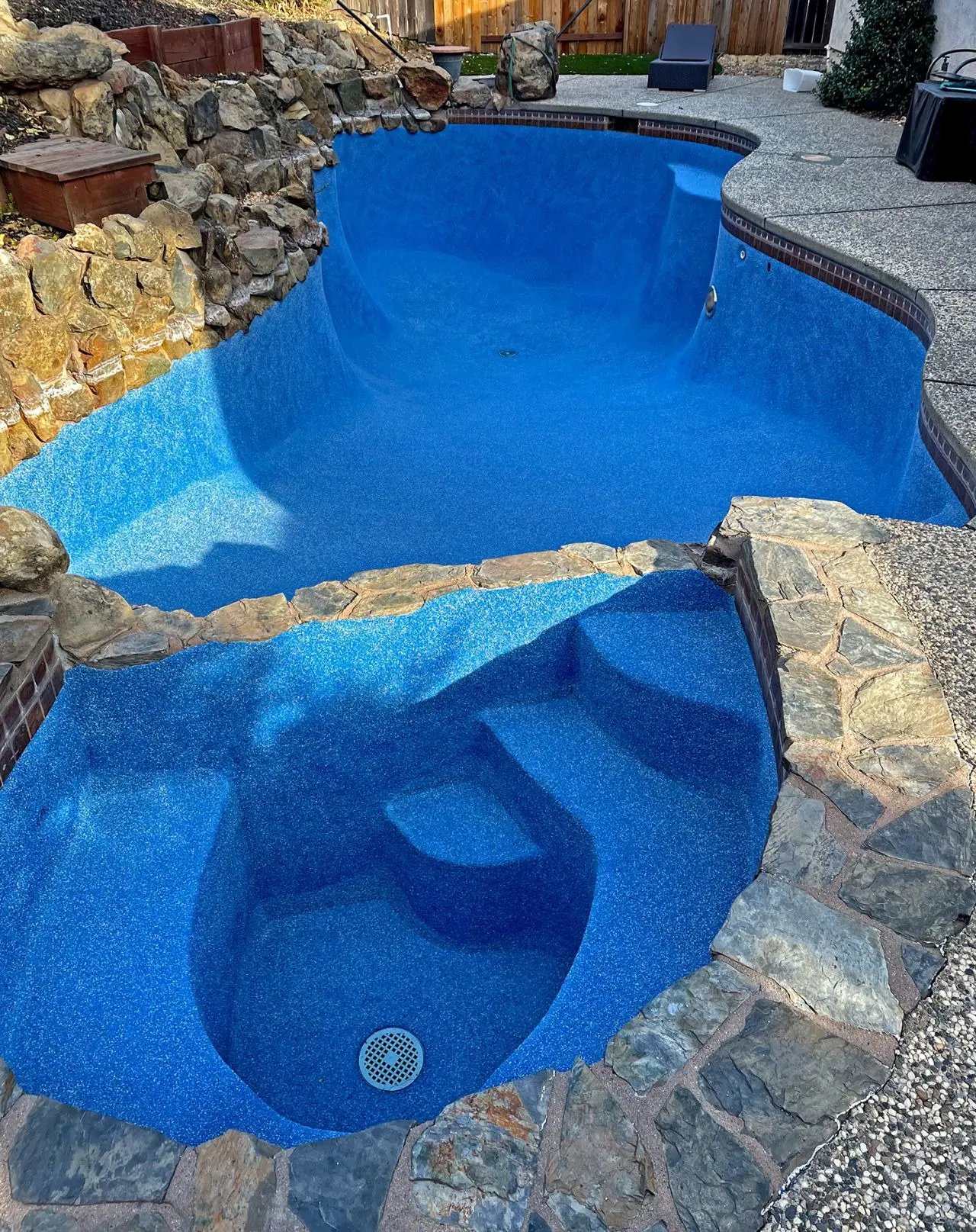 Installing a durable and slip-resistant rubber surface as swimming pool lining can save time and money by applying it on top of an existing surface. Colored rubber granules are UV resistant, which also makes it ideal for outdoor pools.
Sports Surfacing
Create a beautiful new running track for high schools, colleges or local parks. Running tracks are often made from with latex to provide athletes with the right amount of cushion to help enhance performance. This springy surface is both fast and forgiving, making it a favorite for runners. It is also permeable, which allows water to drain more easily from the track in rainy months.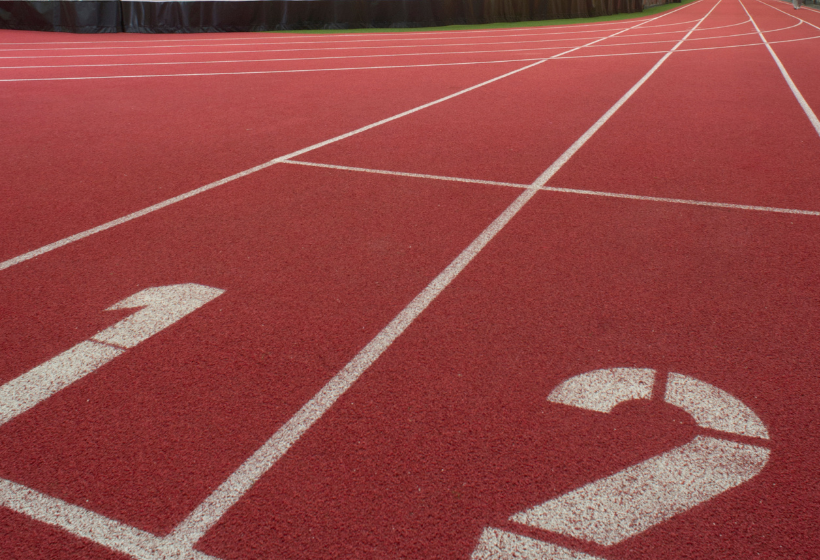 Using colored rubber granules in running track surfacing allows for an endless amount of creative possibilities. Color choices run in a variety of different options to coordinate with your athletic program or school palette.
In Abu Dhabi, Reem Central Park used Rosehill TPV® colored rubber granules to create a beautiful jogging track in the city. The mix of blue colored rubber granules on the running track matches with the high-rise glass towers surrounding the park.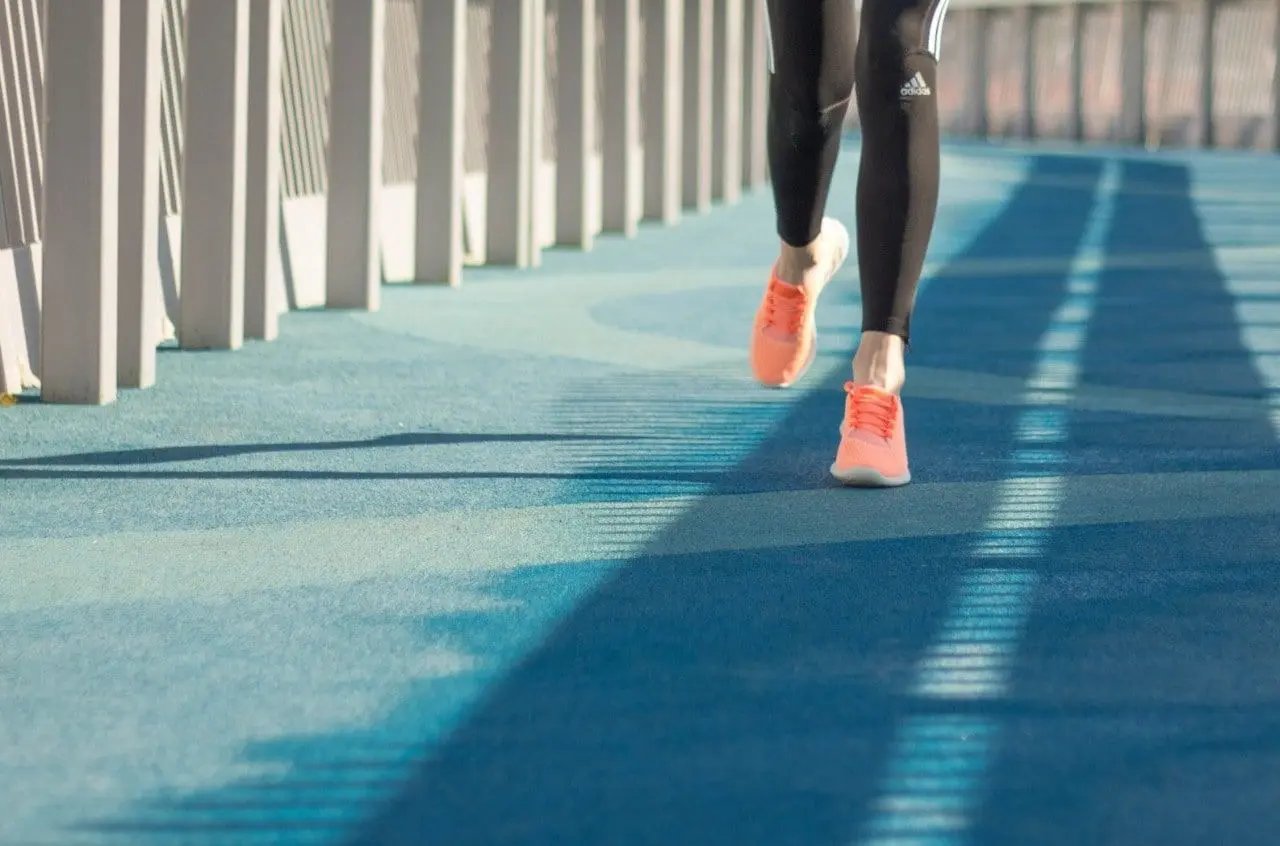 Dog Agility Course
When you research how to build a dog agility course, you will find that canine athletes often train on the same quality rubber surfacing as human athletes. Depending on your application method of choice — whether it's poured-in-place, bonded, etc. — the canine agility community often opts for bright colors using colored rubber granules to help surface their training facilities.

Need to Buy Colored Rubber Granules?
At American Recycling Center, we are the exclusive North American distributor for Rosehill TPV® colored rubber granules. Download a PDF to view the different colors we offer here. We have an inventory of standard size colored rubber granules (1-4mm). In custom size 0.5 mm granules, we have the top four standard colors (standard blue, standard red, beige, and standard green). Designed for indoor and outdoor safety surfaces, Rosehill TPV® colored rubber granules offer superior UV stability and is currently available in a wide range of colors for your next project.